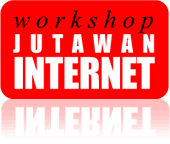 Terms & Conditions
Workshop Jutawan Internet is organized by Irfan Khairi Sdn Bhd. The management reserves the right to add, modify, replace or cancel venues or events at any time. The Management reserves the right to make changes and amendments to the rules and regulations at any time. In the event that changes are made, the management will contact all registered teams with the updates so that they may make the appropriate adjustments the event.
All rights reserved. No part of this seminar and publication may be reproduced or used in any form or by any means, electronics or mechanical, including photocopying, recording, or by an information storage or retrieval system, whatsoever without prior written permission from the publisher.
This seminar and publication are for educational purpose only. The strategies outlined may not be suitable for every individual and are not guaranteed to produce any particular results.
This seminar is sold with the understanding that the speakers, organizer, agent and all other parties involved are not engaged in rendering legal, accounting, or other professional services. If legal advice or other expert assistance is required, the services of a professional person should be sought.
The author, speakers, publisher and organizer specifically disclaim any responsibility for any liability, loss or risk, personal or otherwise, which is incurred as a consequence, directly or indirectly, for the use and application of any of the contents.
ANY TYPE OF RECORDING DEVICE - AUDIO OR VIDEO IS STRICTLY PROHIBITED DURING THE WORKSHOP.
The Management reserves the right to restrict access to participating without an explanation. Entry into the workshop/seminar is handled on a first-come, first-serve basis only if management approves the participant. The management also reserves the right to remove any person from the registered participant list should the management feel that the person will not be suitably prepared for the event or may act in a way that will be harmful to themselves, other participants (including but not limited to volunteers, media and staff) or the event as a whole.
It is to the participants understanding that the workshop/seminar fee is for the education value provided during the event only. It does not include any future support or coaching services. If support or coaching services is required, please seek professional help and advice.
The free gifts provided by the organizer is at "as is" basis. The free gifts are not transferable or exchangeable for cash.
Free NewsLetter advertisement apply to one (1) site per participant only. The free gift of promoting participants website in our Newsletter will NOT apply to sites:
That are illegal in nature
That are against Internet ethics
That are in competition with RahsiaInternet.com, Irfan Khairi Sdn Bhd and True Wealth Sdn Bhd
"Make-money-online" sites
Any type of money-making-products or services including, SMS based, email based, membership based.
Pyramid schemes, Ponzy schemes and get-rich-quick schemes.
Affiliate sites
Website selling Master Reseller products (Sample: Reselling E-books